You have a Diamond Face Shape!
Look your best using the style tips below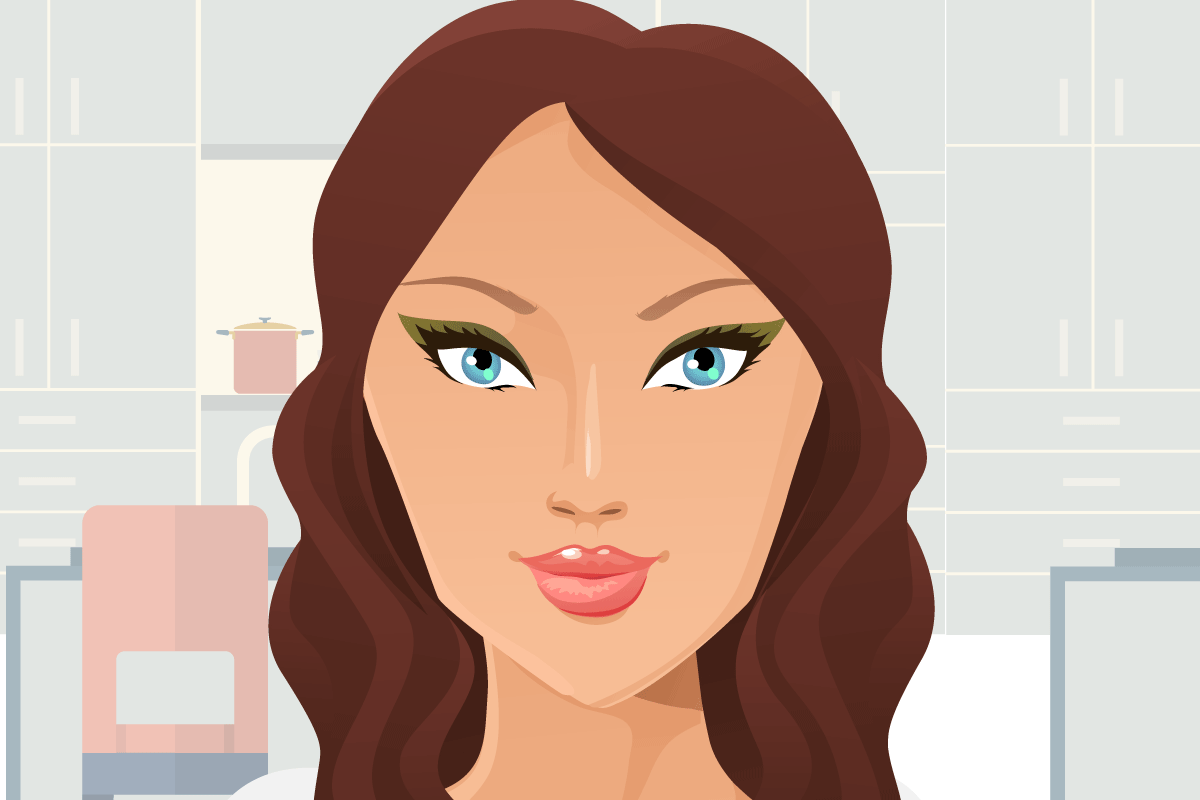 The diamond face's widest point is the cheekbones, with a narrow forehead, and angular jaw line. The diamond shape is less common than other facial shapes.
Celebrities with this facial shape include: Jenifer Lopez, Felicity Huffman, Christy Turlington, Elizabeth Hurley, and Kim Raver.
Diamond Face Shape Style Tips
Now that you have discovered your face shape type, you can learn how to complement it using different hairstyles, makeup, glasses and more. Learn to be your own image consultant and look your best.
---
Hairstyles for Diamond Face Shapes
Your over-all goal with any style you choose is to add fullness and width to your forehead and chin. This can be acheived several ways:
Part your hair slightly off center
Shoulder length cuts with waves or curls starting from your jaw line
Styles that have volume at your temples and chin
Thick side-swept bangs
Tip: Look for photos of celebrities with diamond face shapes to see what hairstyles work for them!
Makeup for Diamond Shaped Faces
The goal with makeup for the diamond facial shape is to make the forehead and jaw line to appear wider.
Your Makeup Essentials:
Foundation
Eyeliner
Two shades of eyeshadow, one medium and one darker
Mascara
Concealer
Powder Brush
Conturing/Bronzing Powder
Blush Brush
Blush
Lipstick
Makeup Application
Apply foundation to your face, throat and chest(depending on your top garment's neck line) covering all skin evenly.
Apply the lighter shade of foundation(should be within one or two shades of your regular color) on both sides of the forehead and from the middle of the face to the bottom of the jaw line.
Eyeliner is applied to the base of the lids from the outside of the eye twords the nose. Use a smooth motion and make the line sweep up slightly. Repeat the same motion to create a line on the bottom, stopping at the center of the eye.
Using the lighter eyeshadow, cover your each eyelid and slightly brush in an upward motion for a quarter of an inch.
Apply the darker shade of eyeshadow over each eyelid and just above the crease of the eye. For asian women and those with small eyelids, leave the lids light, and blend the darker shade just above the crease.
Mascara is applied to your eyelashes, brushing in a small "s" pattern as you pull up. This coats the all sides of each lash and separates them.
For women with darker skin under the eyes, apply concealer. Concealer is usually one step lighter than the foundation. This may also come in handy to clean up any eyeshadow that may have dropped under the eyes.
Using a powder brush, take your conturing or bronzing powder (should be slightly darker than your foundation) and lightly brush your from the temples up.
Define your brows with the liner pencil. If your brows have very light hair, draw the brows on by slowly building them up in a slight arch. This should start at one end of the eye, and end at the other end, making sure the brow is slightly longer than the eye.
To apply blush, lightly brush blush to the ball of your cheek, blending towards the center of your ear
Apply a medium or dark lipstick to the lips if you desire.
---
Glasses For Diamond Shaped Faces
A diamond facial shape should choose oval or round frame shapes. Cat-Eye Frames work especially well. The frames must not be wider than the width of your face. Many women find that childrens' frames give them a better fit, and sometimes cost less than larger adult frames.
---
Jewelry for Diamond Face Shapes
People with diamond shaped faces need to broaden the appearance of the jawline.
Earrings should be longer than they are wide.
Earring shapes like pear shapes and tear drops work well.
Square, circle and other wider shapes can be worn if they dangle far from the lobe of the ear.
Choker and other tight fitting necklaces look great on your neck.
Chunky beads and amulets can be worn as long as they are short length and wrap close to the neck.