You have an Oval Face Shape!
Look your best using the style tips below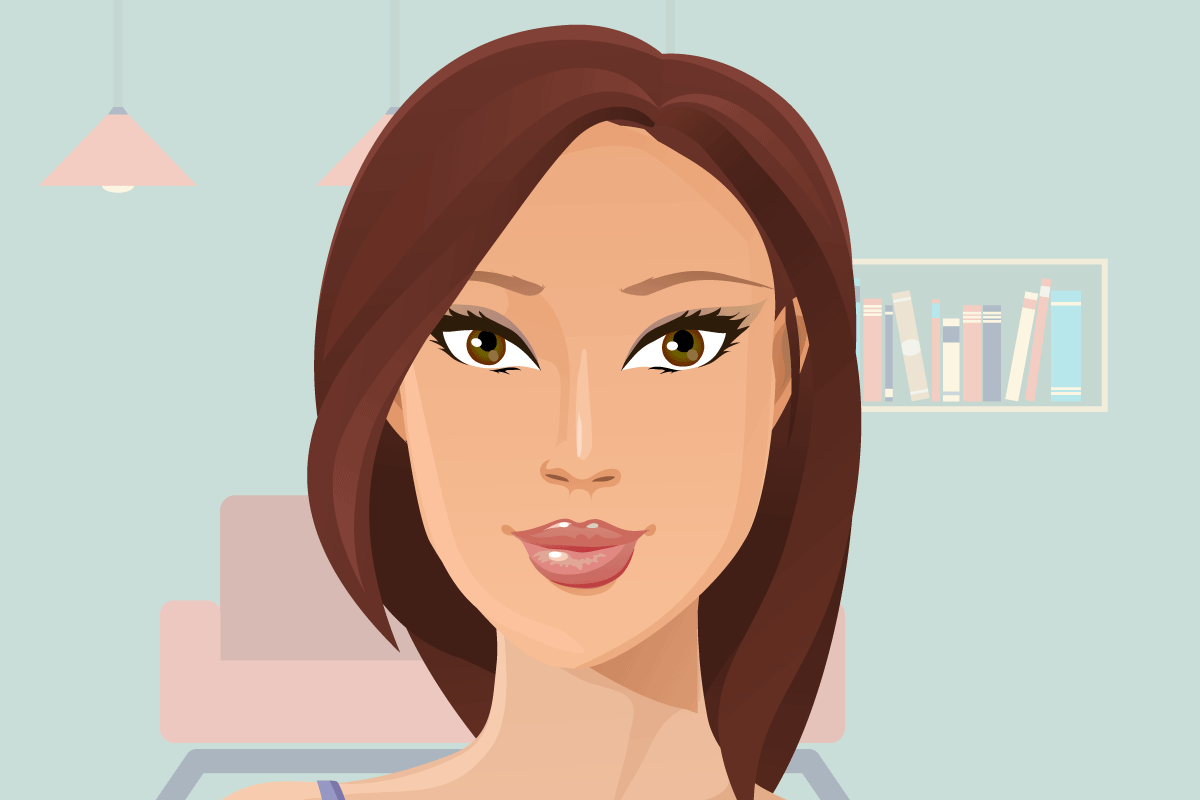 The oval facial shape is very prominent in Hollywood and for many celebrities across the globe. Oval faces have a jaw line that is slightly narrower than the temples, and tapers from cheeks to chin. The length of an oval face is longer than the width.
Celebrities with this facial shape include: Cindy Crawford, Courtney Cox Arquette, Jessica Alba, Julia Roberts, and Jada Pinkett Smith.
Oval Face Shape Style Tips
Now that you have discovered your face shape type, you can learn how to complement it using different hairstyles, makeup, glasses and more. Learn to be your own image consultant and look your best.
---
Hairstyles for Oval Face Shapes
Your over-all goal with any style you choose is to fit your lifestyle and personality. Oval shaped faces are considered to be in perfect proportion, nearly any style will complement your facial shape. You have the freedom to accent your best facial features. Some Suggestions are:
Shorter styles that are angled at the jawbone will complement your cheekbones.
Long hair can be styled with a center or side part and hair flowing to the shoulders.
Work with the natural texture, curl and quantity of your hair, rather than against it.
Styles To Avoid
Avoid heavy bangs may take away from the perfect proportion of your face.
Avoid styles that are cut short.
Avoid styles that have volume at the temples and above.
Avoid styles that give you too much height on the crown on the head.
Tip: Look for photos of celebrities with oval face shapes to see what hairstyles work for them!
Makeup for Oval Shaped Faces
The goal with makeup for the oval facial shape is to complement your pefect proportions
Your Makeup Essentials:
Foundation
Eyeliner
Two shades of eyeshadow, one medium and one darker
Mascara
Concealer
Powder Brush
Conturing/Bronzing Powder
Blush Brush
Blush
Lipstick
Makeup Application
Apply foundation to your face, throat and chest(depending on your top garment's neck line) covering all skin evenly.
Eyeliner is applied to the base of the lids from the outside of the eye twords the nose. Use a smooth motion and make the line sweep up slightly. Repeat the same motion to create a line on the bottom, stopping at the center of the eye.
Using the lighter eyeshadow, cover your each eyelid and slightly brush in an upward motion for a quarter of an inch.
Apply the darker shade of eyeshadow over each eyelid and just above the crease of the eye. For asian women and those with small eyelids, leave the lids light, and blend the darker shade just above the crease.
Mascara is applied to your eyelashes, brushing in a small "s" pattern as you pull up. This coats the all sides of each lash and separates them.
For women with darker skin under the eyes, apply concealer. Concealer is usually one step lighter than the foundation. This may also come in handy to clean up any eyeshadow that may have dropped under the eyes.
Using a powder brush, take your conturing or bronzing powder (should be slightly darker than your foundation) and lightly brush your chin and forehead
Define your brows with the liner pencil. If your brows have very light hair, draw the brows on by slowly building them up in a slight arch. This should start at one end of the eye, and end at the other end, making sure the brow is slightly longer than the eye.
To apply blush, lightly brush high on the cheekbones below the pupil of the eye, and blending upwards and outwars to the hairline.
Apply a darker lipstick to the lips if you desire.
---
Glasses For Oval Shaped Faces
An oval facial shape can choose any frame shape. The frames must be as wide, or slightly wider than the width of your face. Be sure they are in proportion with the size of your head. Many women find that childrens' frames give them a better fit, and sometimes cost less than larger adult frames.
---
Jewelry for Oval Face Shapes
People with oval shaped faces have a balanced shape, but need to choose jewelry that won't create an unbalanced appearance.
Earrings should be in proportion with the size of your head and body scale.
Use caution with earrings styles that are long and dangling.
Earrings shaped as tear drops, pearls, oval and circles look best because they complement your face's soft edges.